Aug 19th, 2010
|
Last night, Ed and I headed to Michaels to grab some ribbon and tulle to begin experimenting with making our own centerpieces, ring holder and boutineers. Check out the results of our experiments: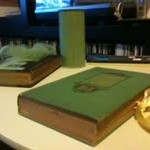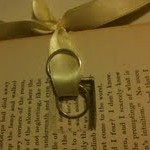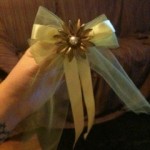 The book on the left in the above picture was an attempt at using masking tape and old books to make table numbers. We're not planning on having a set seating arrangement, but I've got some other variations on this concept percolating.
Using an old book as a wedding ring holder came from Craftzine, and you can see what the holder looks like closed in the picture at the left.
If you couldn't guess, the brooch/ribbon thing is likely to become a template for our boutineers. Using puff paint (white, green? Not sure on the color yet), I'll write "Heidi's Mom," "Ed's Dad," etc. on them to help ID families of the bride & groom.